Nestling in a woodland corner of Northern Hampshire, the gardens of West Green House surround one of the prettiest manor houses in England. It is a garden with a special and distinctive sense of place created over two decades by Marylyn Abbott a renowned Australian garden designer whose twin passions for English Gardens and International Opera have created a unique environment.
'her swashbuckling annual potage displays, fountain gardens and torch lit operas reflect her energy and zest. Through her books she has pumped fresh air and sparkle into the world of period gardening' Stephen Lacey, The Telegraph
West Green House Gardens combines neo-classical style with contemporary design. A grand water staircase provides a focal point to the Nymphaeum Fountain designed by architect Quinlan Terry. The magnificent Walled Garden, faithfully restored to its original lines, is entered through an arbor of wisteria. An alley of apple trees divides an elaborate potager with its berry-filled fruit cages, annual flowers and colourful vegetables from its signature perennial borders exuberantly planted in subtle hues of mauve, plum and blue.
Beyond these walls, the Lakefield is carpeted in the spring with fritillaries and daffodils and which embraces one of England's most eclectic collections of garden follies. A path leads from the serenity of the Lake to the Paradise Water Garden and contemporary Garden of the Five Bridges with its serpentine ribbon of iris sibirica crossed by chinoiserie inspired bridges. It meanders on through a woodland glade to the terraced Theatre Lawn surrounded by tall tapestry hedges. West Green House Garden offers four seasons of beauty, contrast and inspiration, with its stunning planting, dazzling colour and touch of humour.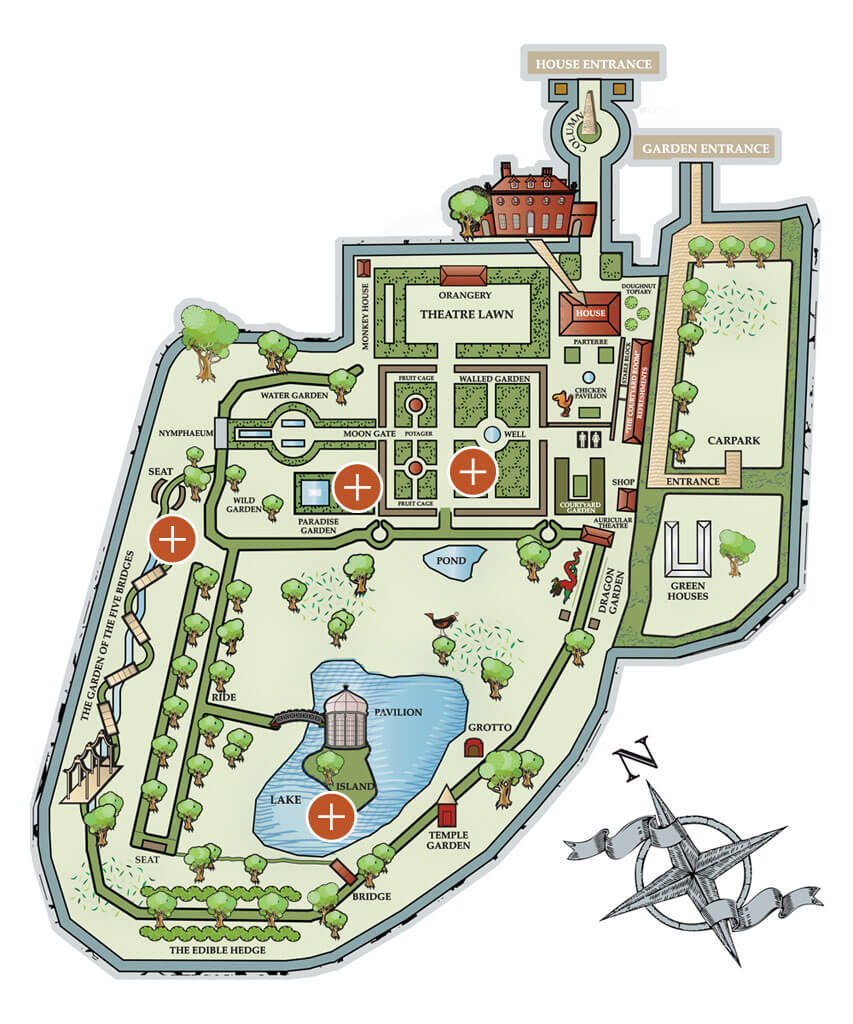 "Yesterday, Saturday, my family visited the gardens at West Green. Words cannot say how much we all enjoyed our visit, with the sun shining, birds singing, and no traffic noise. 
In my time and career I have visited many gardens, and there are only a few that have left a powerful and lasting first impression. Sissinghurst, Dixter, Stourhead, Rousham and Tivoli are the few that spring to mind, and now so does West Green. Not unlike Sissinghurst, I was excited by the unfolding rooms and the hidden corners, which then opened into the larger informal area that was so wonderfully relaxed.
"It is clear that the gardens there are being progressively planned and developed, which is always so refreshing to see, and only possible where owners garden without boundaries, and with flair and imagination. The entire experience was relaxing, and yet thrilling, and completed to perfection by tea, cake, which was all very delicious."
"What we saw was individual and filled with personality, and we thank you for making a wonderful day".